There are several good Algonquin Park maps - especially for canoe trips into Algonquin's backcountry. Below you will find some of our favourite maps of Algonquin Park and the surrounding area.

NEW SPRING 2019!
Jeffrey McMurtrie, the genius behind the legendary "Jeff's Map" has partnered with fellow map maker Deki to produce an all new Algonquin Park map. Their joint enterprise "Unlostify" will be launching the map before the busy summer 2019 season. It will feature the same great accuracy and attention to detail you're used to with Jeff's Map, but will also introduce some awesome new features such as travel speed, an easy way to calculate how long your day will be based off your own travel speed. Maps will be available to purchase at Voyageur Outfitting at Algonquin Access #1 beginning summer 2019 as well as at Unlostify.com.
Friends of Algonquin Park
Another good starting point for trip planning is the Friends of Algonquin Park's "Canoe Routes of Algonquin Park Map". These maps are inexpensive and show the entire Park and all its routes on one page. They are available for purchase through the Friends of Algonquin, with 100% of proceeds going to support conservation and education initiatives in the park.
View the most recent edition of this map on the Friends of Algonquin's website
Friends of Algonquin Park 1995 Canoe Routes Map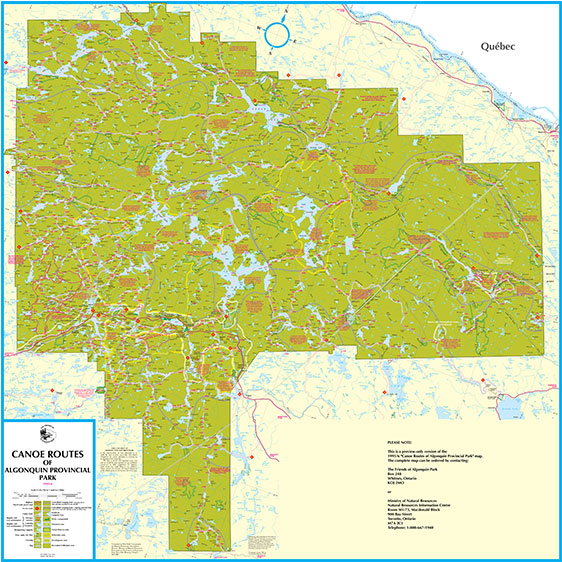 Click to Download PDF File
Topographic Maps
Natural Resources Canada produces topographic maps of the entire country in both 1:50,000 and 1:250,000 scales. These maps are especially useful if you are hiking, bush crashing or snowshoeing in winter. Topographical maps provide more details on terrain through contour lines, allowing you to visualize hills and valleys in 2D.
South River, 1:50,000. 031E14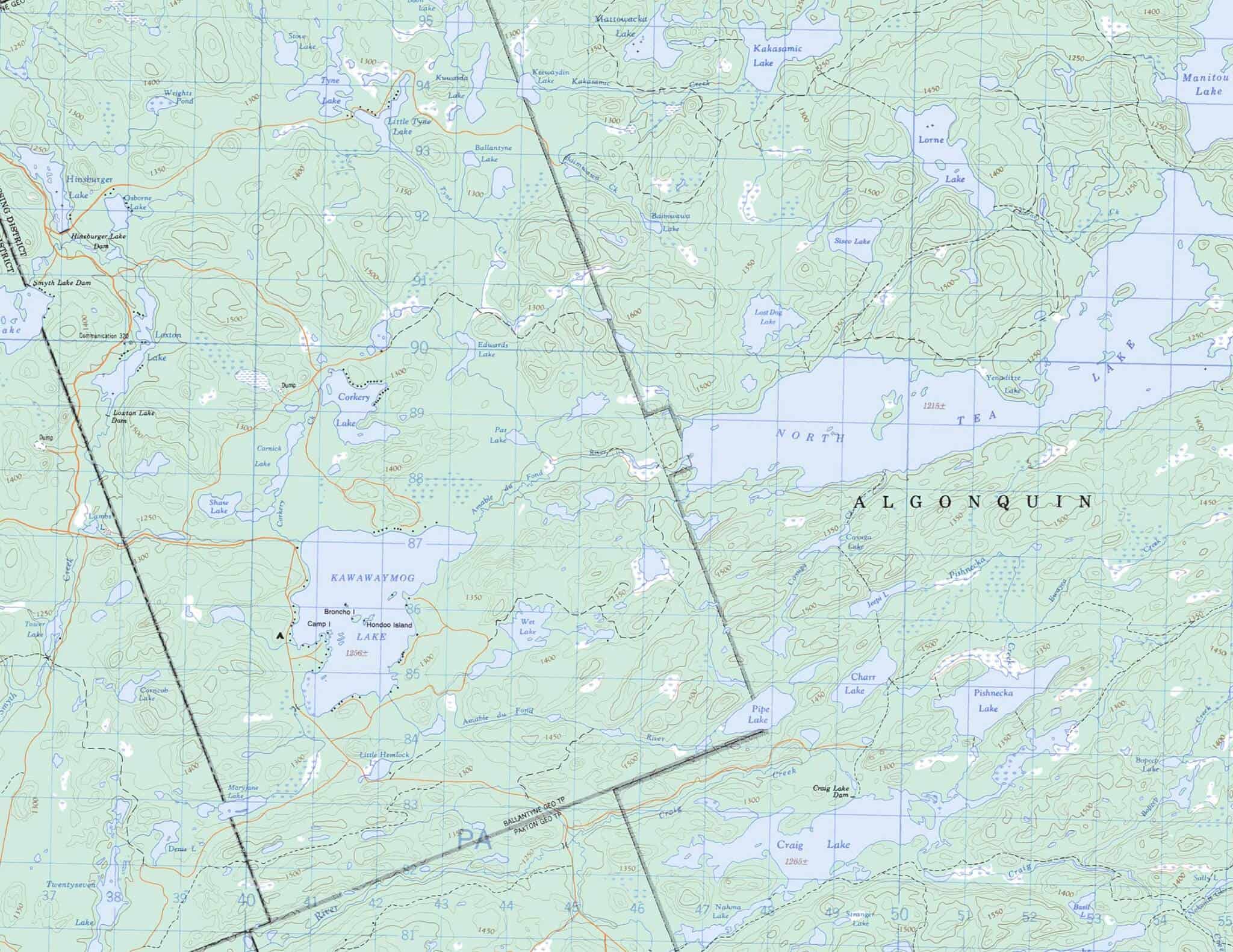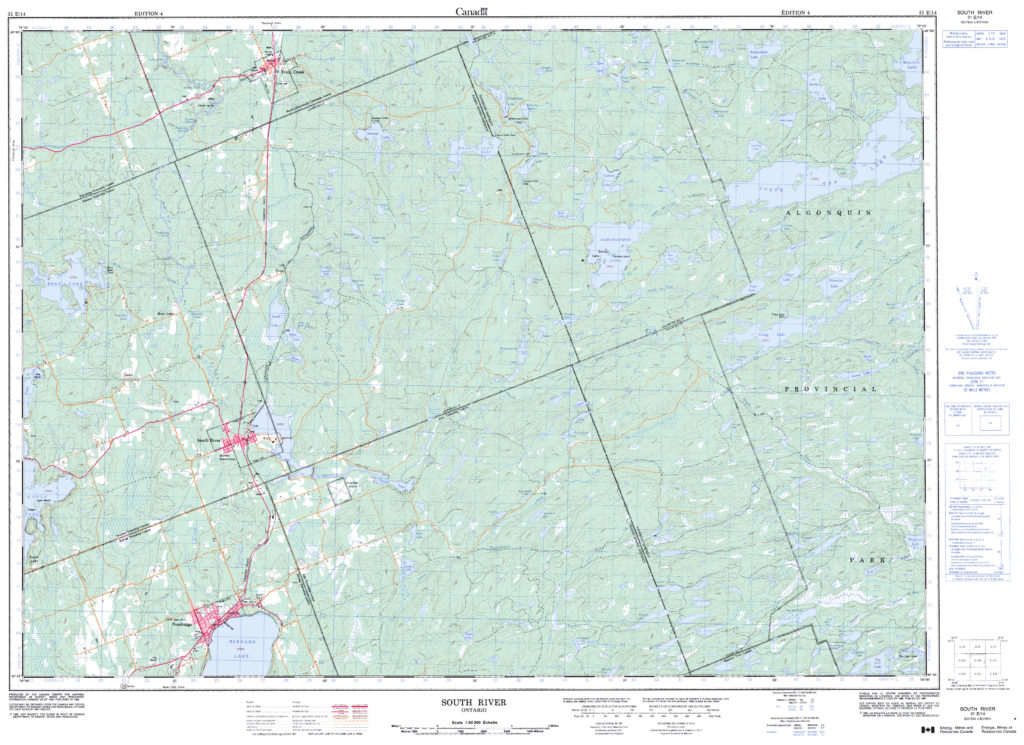 South River Topographic Map, 1:50,000 scale. Energy, Mines & Resources Canada. Click to download PDF file.



Antique Survey Maps of the Log Cabin and Access #1
While digging around on the Archives of Ontario's Visual Database Website, we recently uncovered some original survey maps of Laurier and Ballantyne township, where our log cabin and Cottages are located. These maps give us a glimpse of the land use history, including logging, and allows us to look back to the original lake and river names in this area. If you look at the top right corner of the Laurier Township Map of 1878, it labels Surprise Lake as Surprise Lake (What we unofficially still call it), but at some point in the following 100 years the name was changed to Smyth Lake. The reason behind this change is unknown, and despite its official name, we're sticking to calling it Surprise Lake.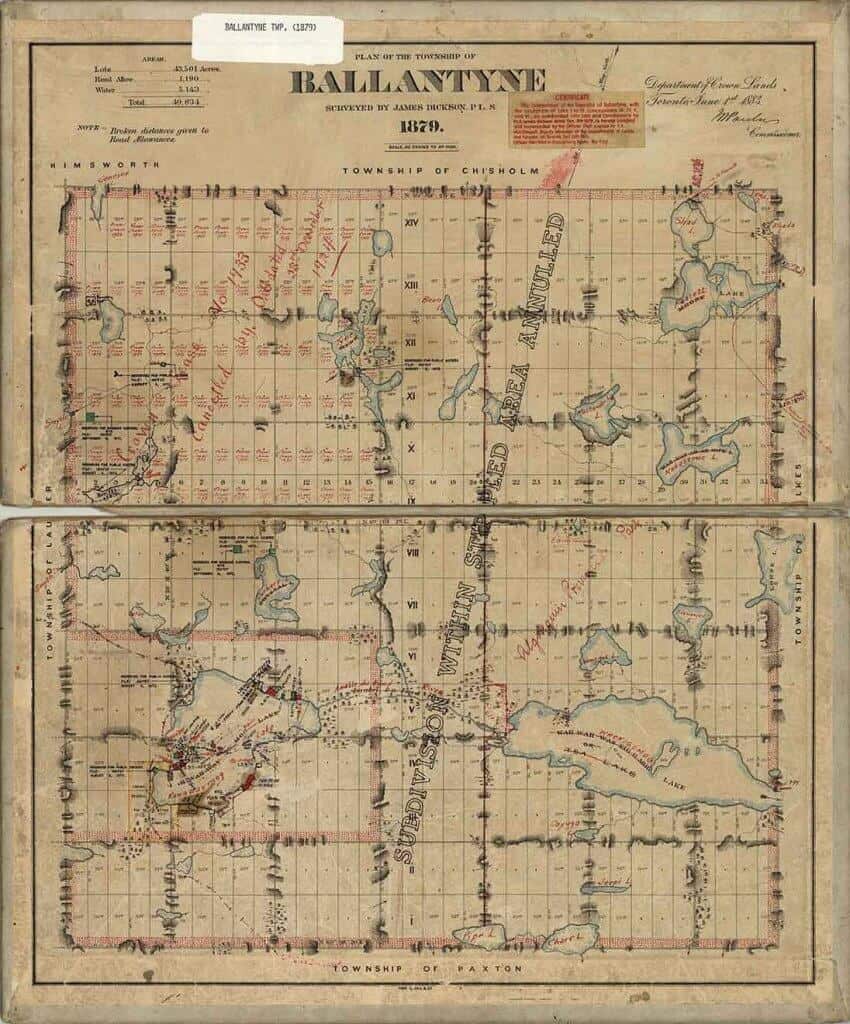 Ballantyne Township Survey Map, Completed 1879. Check out Kawawaymog and North Tea Lake at the bottom left! Click for High Resolution.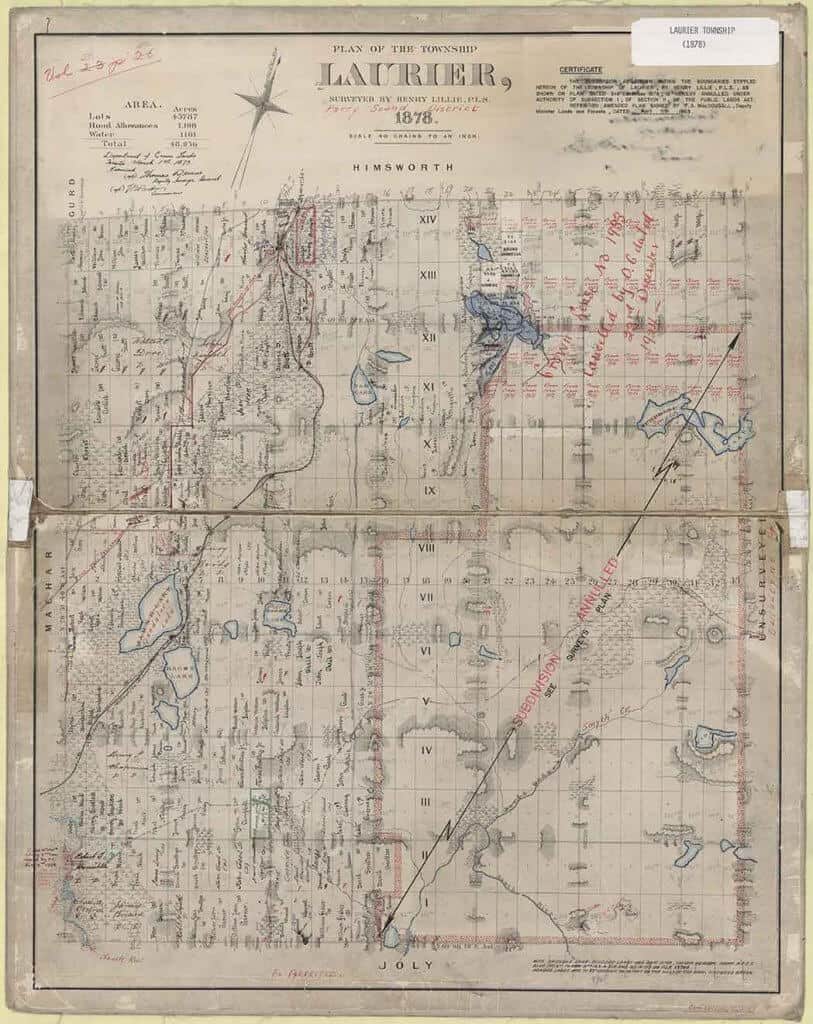 Laurier Township Survey, Completed 1878. Check out Surprise Lake at the top right. Click for High Resolution.